Christopher Heer
IP Lawyer, Patent Agent, Trademark Agent
Certified Specialist (Intellectual Property Law: Patent)
Overview
Christopher entered the field of intellectual property law with a desire to help companies and individuals use intellectual property rights to help their businesses succeed. He believes intellectual property rights add value to businesses by enabling them to raise capital, build asset value, and grow faster under the protection that these exclusive rights give them. Building a bigger business gives them a greater ability to reach more potential customers, which ultimately gets their products and services to more people to enhance their lives as well.
As an intellectual property lawyer, Christopher practices in all areas of intellectual property law and intellectual property litigation, with emphasis on intellectual property litigation, patent drafting and prosecution and intellectual property matters relating to information technology. In recognition of his specialty expertise in patent law, he is designated by the Law Society of Ontario as a Certified Specialist (Intellectual Property Law: Patent).
IP Litigation
Christopher is a well-versed patent litigator who has acted for plaintiffs and defendants in patent disputes involving diverse technologies, such as wireless e-mail, robotics, hydrocarbon fracturing, plunger lift equipment, temporary road mats, and pharmaceuticals.
In a multi-million-dollar patent lawsuit in the oil and gas sector, he obtained admissions during cross-examination of the plaintiff which led to the granting of summary judgment for the defendants, sparing his clients the time, expense and risk involved in proceeding to trial.
Christopher also has experience in trademark, copyright and trade secret litigation, particularly in relation to computer software and semiconductors, data protection litigation under the Food and Drug Regulations, and software-related contractual disputes.
As part of his intellectual property litigation practice, he regularly helps businesses involved in pre-litigation disputes by sending and responding to cease and desist and demand letters and negotiating settlements of the disputes before litigation is commenced.
Patent and Design
In addition to his litigation practice, Christopher is a registered patent agent in Canada and a registered patent agent in the United States (for Canadian resident applicants). He obtains patents for clients and associates in a wide range of technologies in the computer software, computer hardware, electrical, mechanical, chemical and biotechnological fields, as well as supervises the filing and prosecution of patent applications in other foreign jurisdictions. In recent years, he has become known as one of the most experienced and effective patent agents at patenting technologies employing artificial intelligence.
In addition to patent drafting and prosecution, he regularly provides patentability, freedom to practice, infringement and validity opinions, as well as conducts IP due diligence in commercial transactions.
Christopher also obtains industrial design registrations and design patents for clients in respect of a variety of articles in Canada, the United States and other foreign jurisdictions.
Trademark
Christopher is also a registered trademark agent in Canada and a registered trademark agent in the United States (for Canadian resident applicants). He helps businesses obtain trademark registrations in Canada, the United States and other foreign jurisdictions, and acts for clients in trademark oppositions and expungement proceedings.
He also obtains trademark clearance searches and provides opinions for marks that clients propose to adopt, use and register in Canada. He also provides trademark infringement opinions, both for Canadian trademark registrations and common law trademarks used in Canada, and opinions on the validity of a Canadian trademark registration or the enforceability of a competitor's common law trademark rights.
Copyright
Christopher's copyright practice includes preparing and filing Canadian copyright registration applications and advising on copyright ownership and copyright infringement issues. His background in computer engineering allows him to more readily assess copyright issues relating to computer software and other digital works such as websites.
Publishing on Intellectual Property
Christopher was a co-author of the Patents chapter of the Canadian Forms & Precedents - Information Technology & Entertainment loose-leaf service and has published articles on intellectual property topics in the Intellectual Property Journal, the Canadian Intellectual Property Review, and the Federated Press Intellectual Property Newsletter. He is also the author of a chapter on Directions to Attend in the book Intellectual Property Litigation - Forms and Precedents.
Speaking on Intellectual Property
He has presented and been interviewed on a number of intellectual property topics, and has lectured as a guest speaker on Patent Law and Data Protection at the Intellectual Property Law course in the Health Law LLM program offered by Osgoode Hall Law School.
He recently spoke on Tactical Considerations in Bringing Motions Before the Federal Court at the Ontario Bar Association's program on Intellectual Property Litigation.
Involvement in the IP Community
He currently serves on the Patent Legislation and Information, Communication & Technology Committees of the Intellectual Property Institute of Canada. For many years, he wrote quarterly IP case summaries for the Canadian Bar Association. He is also a past Chair of the Toronto Intellectual Property Group.
Legal Education and Awards
Prior to being called to the Bar of Ontario, Christopher obtained his law degree from the University of Toronto where he was awarded the Gowlings Prize in Innovation Law & Policy for attaining the highest grade point average in intellectual property law courses, the Gowlings Prize in Law and Information Technology and the Stikeman Elliott Prize in Technology Law.
Pre-Law Education and Experience in Computing Engineering
Before law school, Christopher graduated from the University of Waterloo with a degree in computer engineering. He has worked in an engineering capacity for a leading e-business software provider, a defence contractor, and a handheld-software developer.
Past Legal Employment
Christopher founded Heer Law in 2014 after ten years on Bay Street as an intellectual property lawyer at a prominent full-service law firm (Bennett Jones LLP) and a top IP boutique law firm (Dimock Stratton LLP).
Recent Awards
Heer Law has been recognized as the 10th fastest-growing law firm in North America in the Law Firm 500.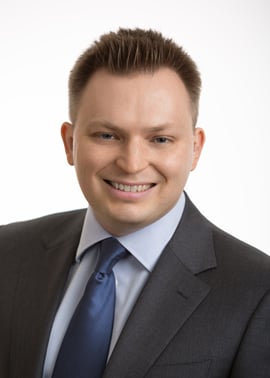 Contact
Phone: 416-546-7303
Fax: 416-352-5709