Stephano Salani
Intellectual Property Lawyer, United States Patent Agent
Overview
Stephano is a lawyer in both Canada and the United States. He is called to the Bar of Ontario, the Bar of the District of Columbia (Washington DC), and the Bar of the State of Florida. Stephano is also a registered patent attorney with the U.S. Patent and Trademark Office (USPTO). He practices intellectual property law with a keen perspective on the practical business and commercial effects that each intellectual property device has on an owner and on their competitors in the marketplace.
Patents
In his capacity as a patent lawyer and registered U.S. patent attorney, Stephano has worked with a broad range of domestic and international clients. His patent examination registration with the USPTO allows him to represent any applicant worldwide before the USPTO.
Given his technical focus on mechanical, computer, material, and biomedical inventions, Stephano advises on patent prosecution strategy and has coordinated prosecution efforts between patent portfolios in the U.S. and those in other jurisdictions such as the U.K., E.U., Japan, and China. He has overseen the prosecution and allowance for patents in a broad spectrum of industries including: automotive, aerospace, artificial intelligence, biomedical, computer/electronics, energy, materials, robotics, and software.
Trademarks
Stephano advises on and prosecutes trademark applications. He has worked with many start-ups and small businesses make their first steps in protecting their reputation in the market and securing trademark protection for their names, brands, and logos.
Copyrights
Stephano prepares and files copyright registration applications and advises on copyright ownership and infringement issues. In this capacity, he has worked with a variety of creators including visual artists, musicians, and authors.
Speaking on Intellectual Property
Stephano has lectured on 'Advanced Topics in Intellectual Property,' a postgraduate course offered by Florida International University College of Law that examines the interplay between existing IP systems and current themes such as the use of artificial intelligence for innovation and creative works, trademark infringement in the metaverse, patent infringement with additive manufacturing, and cross-licensing agreements.
Legal Education
Prior to being called to the Bar of the State of Florida and the Bar of the District of Columbia, Stephano obtained his law degree (J.D.) from Florida International University College of Law. During the course of attaining his law degree, Stephano was awarded the Academic Certificate in Intellectual Property as well as the CALI Excellence for the Future Award for attaining the highest grade in the postgraduate course 'Intellectual Property and Human Rights.'
After several years of practicing intellectual property law in the United States, Stephano attained a Master of Laws (LL.M) from the University of Melbourne with honours and with a focus on IP licensing and cross-border dispute resolution.
Industry Experience
Prior to becoming a lawyer, Stephano graduated with a Bachelor of Science in Mechanical Engineering with honours from Florida International University. He conducted research on carbon nanotube synthesis manipulating the chemical vapor deposition process to achieve variances in the electroconductivity of the formed carbon nanotubes.
Involvement in the IP Community
Stephano contributes his time as an AIPPI member participating in the comparative analysis of nations' IP laws in furtherance of AIPPI World Congress Adopted Resolutions. In this capacity, he contributed to the 2017 World Congress Adopted Resolution on the patentability of software inventions and the 2023 World Congress Adopted Resolution on online and metaverse-based trademark infringement.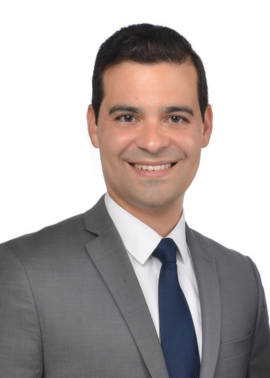 Contact
Phone: 416-546-7303
Fax: 416-352-5709